Entering a place, whether it is a room or a house, means crossing a door and often, the look is looking for something in which the other senses are involved. The warmth, the feeling of welcome that we feel on the skin, the colours, especially the perfumes. We perceive many emotions when there are good smells, such as entering a pastry shop where freshly baked sweets permeate the air of a perfume that makes us mouth water or visit a garden in spring where flowers quieten souls in war.
Extrasensory experience in Florence
In the historic city of Florence, there is a laboratory that works and mixes fragrances. This quaint little shop respects ancient traditions where the art of perfumery has very ancient roots. The Aquaflor laboratory does not limit itself to making a dozen perfumes but offers real extrasensory experiences.
Inside the laboratory, you will be welcomed by a cosy atmosphere with wooden furniture and rugs as if it were an environment out of time, but to hit your attention will be the many scents that will make you daydream.
In this place they offer 3 types of experiences:
- A sophisticated and professional environment
- Creation of the perfume
- A personalized perfume
In the Aquaflor laboratory, the perfume creation is carried out according to guidelines that will explain how to "taste" at an olfactory level, the perfumes and essential oils offered to you. Olfactory perceptions will help you understand what kind you are and your dreams, character, and desires.
These are learning techniques to train you to perceive the external world according to what makes you happy. The tours are organized by a staff that has made the world of perfume its work by combining a strong passion.
In this laboratory, you can also attend workings that are no longer used, as they are artisanal, but keep intact the aromas of various components of natural elements, leaving them fresh and sweet. From Aquaflor, you will experience the artistic value of this ancient art that makes us understand how Florentine history continues to keep its secrets to release them in sweet memories to take away with you in a small bottle of perfume.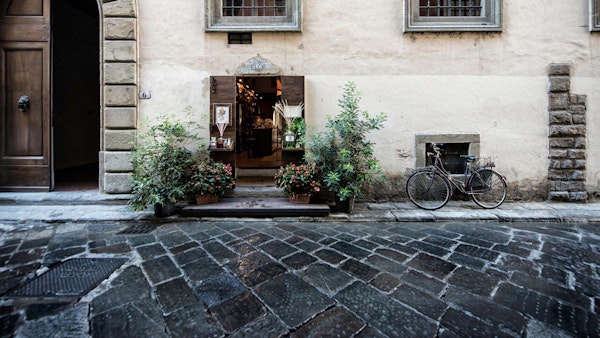 Personalized perfume
In the Aquaflor laboratories, at the end of the tour, after various tastings and after having indoctrinated you to the ancient perfumers' techniques, you can create your personalized perfume.
Every one of us has a personal way of seeing things in the outside world and living them according to their character. Perfumes could mix all this state of emotions.
Think about when we enter a room with an ethnic style. It increases its beauty if you use strong fragrances, which make us remember the ancient places and traditions, perhaps of a tribe. The same happens in oriental environments where the spices, with their pungent scent, reminds us of distant people, rivers, colourful costumes and makeup that recalls the Sun.
While in Italian environments, the scent of flowers and citrus is the master. In this way, you will understand the "power" of a personalized perfume, which identifies ourselves.
A unique experience that we can live in this small Florentine laboratory, Aquaflor, which offers us the opportunity to visit not only monuments and history, but alternative places, different experiences, to take away the true sense of the artists and artisans who lived in this beautiful city, Florence, and that hide their secrets in a bottle of sensations.