Lots of people assume that the Leaning Tower and the Piazza dei Miracoli are Pisa's only attractions. Nothing could be further from the truth!
The Piazza dei Miracoli (literally Square of Miracles) is a magnificent point of departure for an extraordinary city of art.
A tour of the Piazza, for example, must include stops at the Cathedral, the Baptistery, the Monumental Cemetery, the Museum of the Cathedral and the Museum of Sinopie (fresco sketches), but a visit would not be complete without a visit to the adjacent, antique (1544) Botanical Garden (Orto Botanico).
Just 10 minutes walking arrive at I PORCI COMODI is a warm and cosy place in Pisa city centre, 10 min on foot from the Leaning Tower, somewhere you can stop by in the daytime for an unconventional sandwich and a glass of wine.
The tiny restaurant is pleasantly decorated in an Italian style, with wooden furniture, shelves with old books and red wine bottles, letting you breathe the Tuscan countryside atmosphere.
When you look at the menu, you may be puzzled by so many sandwiches with different combinations of meat and cheese…How can you manage your raging hunger with more than 40 options? Don't worry, the super friendly staff are there for you, explaining all the dishes, prepared with rigorously Italian ingredients.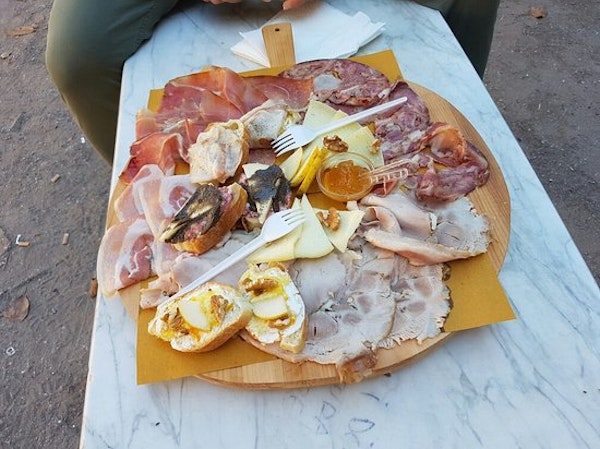 After lunch make a walk along Pisa North embankment (Tramontana) of the River Arno, which takes you from the Citadel with the Tower of the Guelphs to the Bridge of the Fort, past the Palazzo Reale, Palazzo Agostini, Piazza Garibaldi and the National Museum of San Matteo, an extraordinary collection of buildings by the most important maestri of Pisa and Tuscany from the 12th to the 17th century and a rich storehouse of archaeological and ceramic finds.
From the bridge Ponte di Mezzo walk along Corso Italia – the shopping street, with many stores, promotions and bargains – and you will come to the Tuttomondo mural, a masterpiece by Keith Haring, the American graffiti artist, who painted the mural for the City of Pisa in 1989, just a few months before he died.
Enjoy your day in Pisa and share photos with us #acacialife on instagram for our Magnetic moments contest 2017