A little guide to enjoy the nature even in the middle of the city
When you read about parks and gardens in Florence you probably think at the amazing Garden of Boboli, a perfect wedding-pictures location and one of the symbols of the renowned Giardini all'Italiana. The garden of Boboli is annexed to the complex of Pitti Palace and is one of the greatest parks in Florence (45,000 m2). The reputation of the Garden of Boboli is born with the Medici and it is a museum to the open, for the importance of its architectonic system, than for the numerous scultoree presences presents in the park. The garden has a triangular plant and is characterized from two orthogonal aces that s' they intercross to the height of the River basin of Neptune; the aces in strong slope, are mark to you from a distance center them and they are developed through a series of terraces marked from controviali, scultorei elements or greens, paths, that they introduce to particular atmospheres: glades, garden fencings, constructions.
Tickets and informations
Here is a list of some others nature spots in Florence that have free access: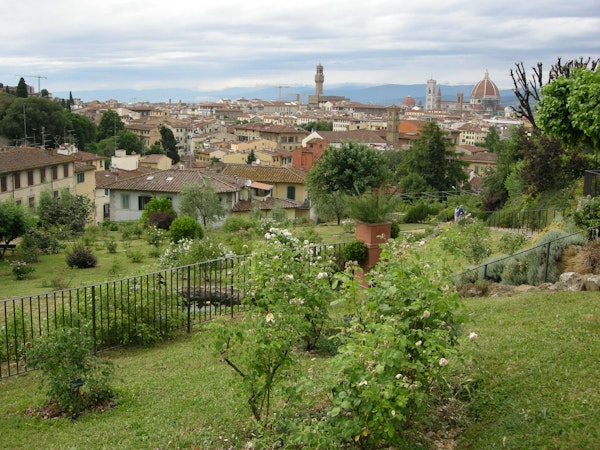 Giardino delle Rose - romantic pic-nic location
The Roses Garden has been realized in one portion comprised between the Rampe street and the Delle Croci street, by the Florence Istitution. The Garden is a typical Italian garden of breeding of the roses. Especially in May it presents with a great exposition of varieties cultivated roses.
Address: viale Giuseppe Poggi 2
Parco delle Cascine - sport and fun
Located on the right side of the Arno river, the "Cascine" are the greatest public park in Florence. Named after the cowsheds/farmsteads that stood in the area centuries ago, the park was in fact a farming and hunting manor owned by Alessandro and Cosimo I de' Medici in the sixteenth century. Progressively transformed into an urban park, it has been open to the public since the Napoleonic era. Ever since, with its meadows, woods and boulevards, the park has been the green heart of Florence. It is today the perfect place for sports or picnics and it periodically hosts cultural events.
Giardino dell'Orticoltura - history and beauty
It was set up in 1859 as an experimental garden by the Società Toscana dell'Orticoltura and provided with a planting ground, vine and apple orchards and rare ornamental plants. This garden is today open to the public and is characterised by meadows, flowerbeds, areas for children and an amazing view of Florence. Moreover, it is possible to admire an impressive Tepidarium, designed by the engineer and architect Giacomo Roster in 1880, which is also home to some of the world's most beautiful butterfly species. Twice a year, on the last days of April and on the first weekend of October, the Giardino hosts an Exhibition-Market of Flower and Plants. Entrance: Via Vittorio Emanuele II, 4 or Via Bolognese 17
For a special moment of pleasure and fun, ask us to prepare a special pic-nic basket with seasonal tasty products and wine for you (info and contacts).
---