Seven classy escapes from the summer heat
Following Acacia tips about Rooftop bars you can mix fancy cocktails, stunning views of the city skyline, marvel at the iconic architecture, colors and the gorgeous sunsets. You'll find most rooftop bars are at high-end, boutique or luxury hotels. Many people don't realize that these rooftop bars are usually open to the public, too.
Here a list to keep in mind how to access to a luxury "high level" Florence.
THE REFRESHING ONE - GRAND HOTEL MINERVA
"360 Three Sixty", rooftop terrace and pool with snack bar are located on the sixth floor, but they are truly "seventh heaven". Located in piazza Santa Maria Novella, open daily until midnight. Drinks costs around 12 euros.
Email info@grandhotelminerva.com for reservation.
THE SOPHISTICATED ONE - HOTEL CONTINENTAL
"La Terrazza" on top of Hotel Continental is open to the public and is a sophisticated spot with a birds-eye view of the Ponte Vecchio. Cocktails cost around 16 euros, open daily from 3:30pm-10pm. Address: Vicolo dell'Oro, 6r
THE FASHIONABLE ONE- HOTEL EXCELSIOR
S.esto at Hotel Excelsior is the first choice for fashionistas to grab a drink in the best location in town. Piazza Ognissanti, 3. Open 7:30pm-10:30pm.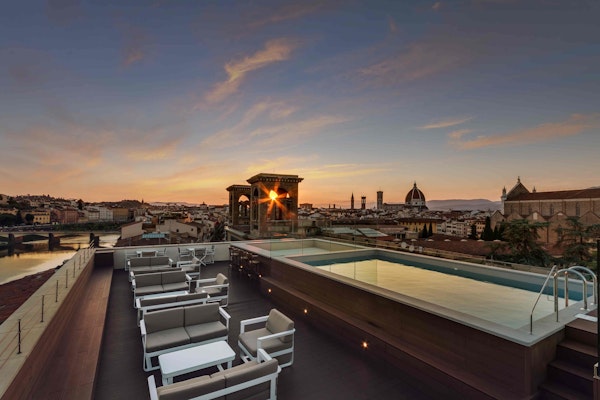 THE INTELLECTUAL ONE - OBLATE TERRACE
On top of the Oblate library lies a cafe that is quite popular with the Italian student population. Cheap and extremely close to the Duomo, you'll try to touch it with your hands! Address: via dell'Oriuolo, 26.
THE INTIMATE ONE - GRAN HOTEL CAVOUR
This spot is for several friends the usual choice to take people for a local drink with an awesome view. Address: Via del Proconsolo, 3.
THE PANORAMIC ONE - HOTEL LA SCALETTA
Hotel La Scaletta is a prime place to grab a spritz and while having a panorama of the city. This hotel bar is located conveniently near Palazzo Pitti in the Oltrarno district, just off the Ponte Vecchio. Address: Via Guicciardini, 13 e-mail: info@hotellascaletta.it
THE NUMBER ONE - HOTEL LUCCHESI
Empireo- Located next to Hotel Lucchesi, and also apart of the hotel's rooftop bar program is fun! Live music nights, fixed price of a drink with access to the buffet (16eu). Address: Lungarno della Zecca Vecchia, 38 e-mail: empireo@toflorence.it