If your little panther or her sweet terrier is not welcome, it's a deal breaker
At Acacia Firenze, animals are part of the family. Both dogs and cats are more than welcome in our vacation rentals, just follow the instructions to find those that fit best for their needs.
At apartment GELSOMINO your four-legged friends have their own outdoor oasis in the sunny private courtyard. They can follow your movements between the kitchen and living room in this comfortable ground floor apartment that doesn't face the road directly.
For the dogs and cats who love terraces, there is no better choice than apartment PRIMULA. After a noble strolling in Piazza Santa Croce, The Aristocats would love to perform here in a jazz concert on the roofs of Florence.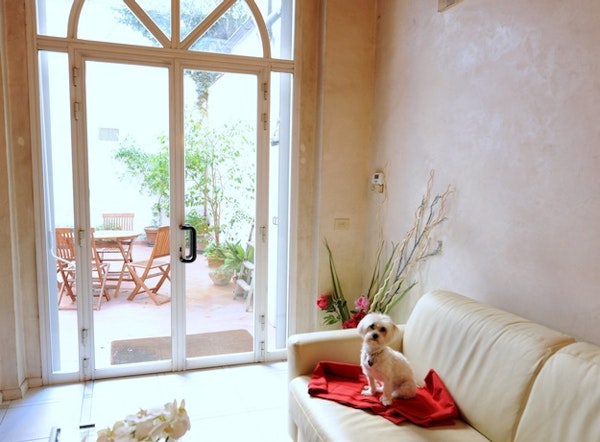 Apartment ROSA, with its magnificent terrace where they can stretch their legs, is also suitable even for large size animals. The size of the apartment will give them plenty of choices in selecting a favorite corner.
Last but not least the vacation rental MAGNOLIA, an elegant choice for animals who love quietness. On the left bank of the River Arno, a bright living room connected to the kitchen is perfect to be already near when the dinner is served.
Your pet is neither a dog nor a cat? Talk to us so we can make the best choice together.